MX Merchant is a large suite of products that we offer in one location with cloud access.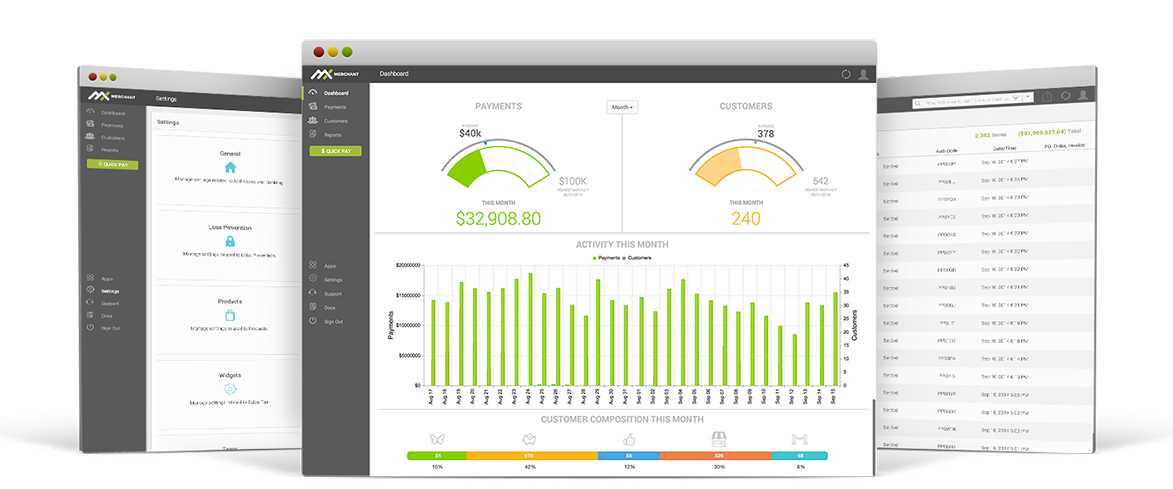 MX Merchant firstly is a virtual terminal where you have access to all your credit card processing data.
You can track your current month of processing, look at old statements to confirm that your rate is still on track, and add applications to your portfolio that will help maximize bottom line with your processing.
There is a "Quick Pay" feature so that you can take payments either by swiping or manually entering a credit card.
MX Merchant also makes it very simple to set up a contract by vaulting cards for recurring payments that come out on the same day every week, bi-weekly, monthly or even yearly. 
Our Updater feature will also send vaulted card information to the card brands daily to ensure that your clients have all of their card information up-to-date.
This feature eliminates declines, cost to manually update card date, and risks associated with staff handling sensitive card information.
MX Merchant Virtual Terminal
We have access to multiple applications that can help out our merchants to increase their bottom line. Some of those we like to show are below:
Business to Business Optimizer
This technology identifies the proper data fields necessary to meet the preferred interchange categories for most major card brands, with no additional need for data from merchants to enter. When the B2B Optimizer Application is enabled our solution verifies that the additional Level II and Level III transaction data needed for those payments is provided during the authorization, so that merchants receive the best possible rate increasing revenue.
With our Quickbooks sync we can now link our payment processing to your Intuit Quickbooks Online tool. This eliminates any double entries as you run your processing through our services that will then sync and add those entries to your online Quickbooks tool. For too long this has been a headache for anyone using Quickbooks Online to do their inventory and accounting, but we can now make this much easier and eliminate the high cost associated with processing fees.
Sending invoices and receiving payments by credit card has never been easier. With our integrated and seamless invoicing system, merchants can customize an invoice with their logo and header message, choose the customer and enter line item details and then send the invoice out. This application can set up recurring payments, keeps the history of all invoices paid and unpaid and a reports system that allows you to track receivables and help forecast cash flow.
With access to a growing database of over 95 Billion transactions from nearly 2 Billion cardholders, Insights breaks down big data into easy to understand information about your customers & competitors. Measure your business performance and trends with key metrics like, average purchase size, spend per customer, spend per day and time of day, etc. Insights will provide customers with the date they used to maximize profits at their regionally specific shop. With custom industry solutions we have simpler ways to do business and therefor helping merchants realize their maximum potential, not letting the day-to-day business of accepting payments slow their business down.
In a time when online retail and hospitality sales are growing like we've never seen, e|Tab is a solution that can help. There are hundreds of applications that help retail with the issue of online sales, but many of these are expensive and difficult to use. The e|Tab application integrates seamlessly into your existing website and social media which allows the merchants customers to interact and transact business with the merchant all online. e|Tab's ordering page will be fully customizable with the merchan's name, logo, color scheme and pictures of your inventory or menu items. We will help with all of the menu build-out, installation and training. e|Tab also has a dine-in feature that allows a restaurant's patrons to run their entire order and transaction contactless from their phone.
Our healthcare solution optimizes payments for healthcare and home care providers offering patients a variety of way to pay for service. Whether it's upfront or after the appointment, a one-time payment or a contract to pay out over time, our service is 100% HIPAA & PCI-DSS compliant, making it easier for healthcare providers to get paid faster. We also work with with the VA, LTCi, Medicare and Medicaid. Our account payable service is simple and easy to use with no reason to mail checks. Our system searches out the best payment terms available so you can monetize all the best discounts and rebates, etc. Our customer service and support will leave you never having to worry about anything, from setup and installation, training and anything in between, we are here for you 24/7.
Real Estate/Property Management
Designed for independent landlords and small to mid-sized property managers. Our system provides tools for tenant screenings to renter's insurance and all the steps with one web-based application. Easy and convenient for you and your tenants or potential renters Integrated Payables. As electronic payments become more and more popular they are also more efficient and economical in terms of paying suppliers versus traditional check processing. Our program will automate 100% of your accounts payable file with multiple forms of secure electronic payments. With electronic payments growing an average of 10.9% per year from 2015 to 2018, you need a solution that is quick, safe, and efficient.
Electronic Check Processing through ach.com
A partnership with ach.com makes your electronic payments very simple by streamlining your accounting operations. Ach.com has accredited ACH Professionals on staff dedicated to providing you with an unsurpassed level of commitment. You can make a single web-based transaction, upload system-generated files or set up recurring transactions all very easily inside of the ach.com system.
If taking payments easily in a non-traditional setting is something you are looking for, we have a solution for that as well. Phone applications have made accepting payments in a pop-up setting, food truck or at a market or fair very easy and we have the ability to do that as well. Competitors like Square have introduced themselves as an easy way to get set up with this ability, but this comes at a price, as their rates are 2.6% and 0.10¢ a transaction. We can lower the transaction fees by half, at 0.05¢, and typically can lower your rate by taking a look at your statements to see what types of cards you are typically accepting. Our process is simple and easy to set up as well and with just a little training we can have you accepting payments with the ease of mind that you aren't paying too much in fees.